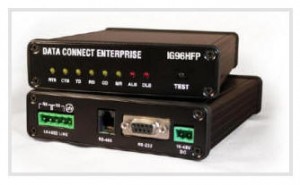 Here is Data Connect's Hyper Fast Poll Multi-Drop Modem. This modem is the perfect upgrade path for networks which use the old Telenetics DSP9612 fast poll modems. The triple mode feature makes these modems backwards compatible with older DSP9612FP modems at up to 9600 kbps and with older Bell 202T and V.23 FSK modems at up to 1200 bps. Why not step up to the best point-to-multipoint polling modems with the fastest training time and lowest network latency available?
Used for rugged Industrial, Utility & SCADA Applications, the Data Connect IG96HFP Industrial Grade 9.6kbps Hyper Fast Poll industrial modem is the highest performance triple mode, full featured leased line modem of its class.
Using the latest innovative digital signal processing (DSP) technology, the modem supports 9600/4800/2400 bps at 17.4 ms RTSCTS delay, as well as Bell 202T and V.23 operation. The IG96HFP is ideal for point-to-point and multi-point polling network with the industry's fastest training time. These Hyper Fast Poll modems operate over 4-wire full duplex or 2-wire half duplex leased lines.
The modem employs QAM and an adaptive equalizer for optimized performance over avariety of transmission lines. It works with DTE/RTUs with an EIA RS-232 and RS-485 serial port at speeds of 9600, 4800, 2400, and 1200 bps. With Auto-RTS mode 3-wire serial interface (TD, RD, SG) in point-to-point and multi-point polling applications are supported.
AC or DC power options are available.
IG96HFP Standalone Modem (100-240 VAC)
IG96HFP-LV Standalone Modem (10-48 VDC)
IG96HFP-HV Standalone Modem (100-240 VAC, 85-400 VDC)
IG96HFP-RM RM16M Rack-mount module
IG96HFP-WMB Wall-mount kit
IG96HFP-DIN DIN rail kit