DCE/IG56 Modems
High-speed V.92 Dial-Line Modems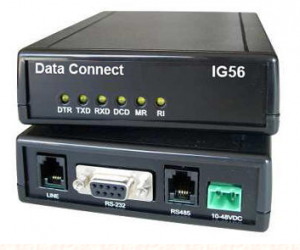 These rugged V.92 dial-line modems use the latest V.92 modem technology.  They are designed for industrial communication applications including SCADA systems, RTs, traffic monitor and control, and industrial automation networks.
DCE/IG56  Stand-alone with AC power module, 90-264VAC
DCE/IG56-LV Standalone, DC power, 10-48 VDC
DCE/IG56-HV standalone with AC power module,
90-264VAC or 100-400 VDC
Supports RTUs equipped with an EIA RS-232 or RS-485 serial port to 56 kbps in reception and up to 48 kbps in transmission. The modems incorporate the latest data-compression and error correction standards for improved data transmission and reception over marginal and poor-quality telephone lines. Multiple levels of security with password verification and security call back keep your valuable data secure from intruders.
The DCE/IG56 modems are powered by a wide range of AC and DC power supply voltages. Its low power consumption and low stand-by current technology design makes the DCE/IG56 ideal for a battery-powered system as well as regular AC powered operations.