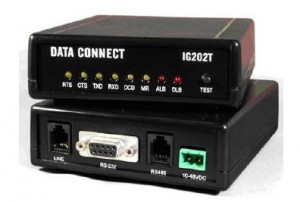 DCE/IG202T-DC STANDALONE (10-48 VDC)
The Data Connect low-speed DC voltage IG202T Industrial Grade Bell 202 stand-alone modem is designed and manufactured for rugged industrial communication networks. The IG202T delivers cost-effective and reliable 1200bps asynchronous solutions for point to point and multipoint connectivity.
The IG202T/V23 modems are ideal for industrial communication applications including SCADA systems, RTUs, traffic monitor and control, and industrial automation networks. The IG202T/V23 supports RTUs with a user-selectable EIA RS-232 or RS-485 serial port at speeds up to 1200 bps. The IG202T/V23 modem is designed to operate over 4-wire full-duplex or 2-wire half-duplex over unconditioned leased lines or private metallic circuits.
For specifications click here.
Call or email for a quotation or for more information.