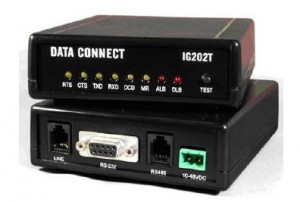 DCE/IG202T STANDALONE (100-240 VAC) Modem 
The Data Connect low speed IG202T Industrial Grade Bell 202 stand alone modem is designed and manufactured for rugged industrial communication networks.
The IG202T delivers cost effective and reliable 1200bps asynchronous solutions for point to point and multipoint connectivity.
For specifications click here. Call or email for a quotation or for more information.
The IG202T is implemented with the latest VLSI technology to replace the old designs that were 20 years or older products. By using VLSI, component count of the IG202T is much lower, which lowers the failure rate and increase the modem's mean time between failure (MTBF)
Why risk buying older technology products that could harm the integrity of your network performance when current technology is available with full backward compatibility? The IG202T is specifically built for harsh environment and is most reliable for industrial applications that will be saving cost in the long run.