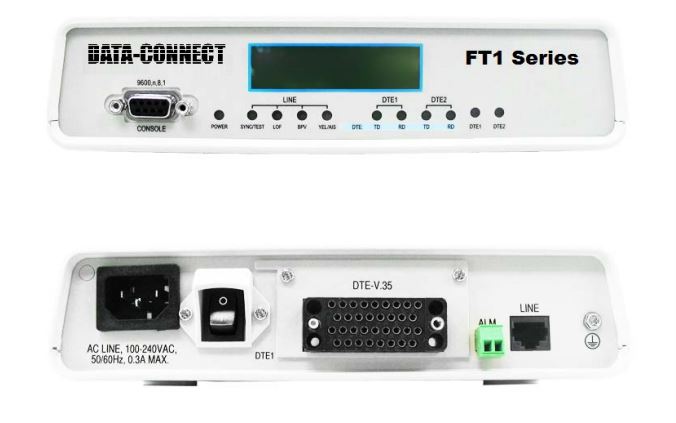 Data Connect FT1 is a T1/FT1 CSU/DSU that provides an economical solution to T1 network access when all channels or some fraction of the 24 DS0 channels are needed.

With a DTE port operating from 56 to 1536 Kbps, the FT1 CSU/DSU allows users to interconnect LANs and WANs, CAD and CAM, video conference, mainframe hosts, and other similar networks. This product supports Extended Super Frame format (ESF) that makes possible continuous error checking, performance polling, and in-service diagnostics. Customer equipment interfaces include T1, single or dual DTE, and Ethernet.

The DCE FT1 CSU/DSU series supports local control and diagnostics using 2-line by 16-character LCD display and keypads or RS232 console port. This allows users to execute in-service diagnostics and fault isolation. The multicolor LEDs on the front panel provide both line side and DTE side with status indicators. An in-band management channel with GUI is available. Using SNMP Network Management Systems or Telnet connection, users can remotely control and diagnose DCE T1 products from anywhere. A GUI Windows based SNMP manager is also available.
• DSU/CSU Functionality Integrated with an Intelligent Front Panel
• Available in Standalone or Rack Mount Models
• Customer equipment interfaces include T1, Single or Dual DTE, and Internet
• SNMP network management or terminal console port
• Supports In-band Management
• A GUI management system with Windows based available
• Connection to LAN/WAN, CAD/CAM, or Hosts to T1 Network Services
• Optional advanced jitter performance
• One 2-line by 16-character LCD display
Ordering Information SA= Stand Alone RM= Rack Mount

DCE/FT1-RS232-SA
DCE/FT1-RS232-RM
DCE/FT1-2RS232-SA
DCE/FT1-2RS232-RM
DCE/FT1-V.35-SA
DCE/FT1-V.35-RM
DCE/FT1-2V.35-SA
DCE/FT1-2V.35-RM
DCE/FT1-RS422-SA
DCE/FT1-RS422-RM
DCE/FT1-EIA530-SA
DCE/FT1-EIA530-RM
DCE/FT1-2EIA530-SA
DCE/FT1-2EIA530-RM
DCE/FT1-ETH-SA
DCE/FT1-ETH-RM
DCE/FT1-ETH-SA
DCE/FT1-ETH-RM