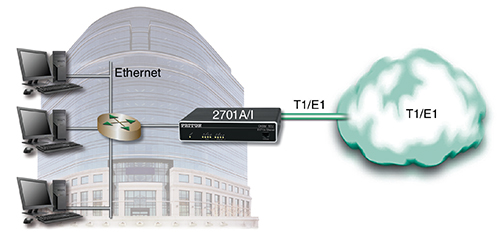 Features
Connect Legacy T1/E1 to Ethernet—Simple conversion of E1 or Fractional E1 to bridged to Ethernet. No configuration required.
Supports 75 or 120-ohm E1 Lines—Both BNC and RJ-48C connectors are provided so there is no requirement for external conversions such as a balun
Eliminate Routers—Bridge Ethernet across the WAN using industry standard PPP/BCP
10/100 Ethernet with MDI-X—Built-In communication crossover switch eliminates the confusion of straight through or cross over Ethernet cables.
Power it Anywhere—Universal input AC (100-240V) and DC (-48V) power supply options
Designed and Manufactured in the USA—Top notch quality and reliability
2701A/I/E48 T1/E1 to Ethernet NTU, RJ45/BNC WAN Interface, External 48VDC power supply
2701A/I/EUI T1/E1 to Ethernet NTU, RJ45/BNC WAN Interface, External 100-240VAC power supply
The Patton 2701A/I T1/E1 to Ethernet Bridge is the ideal solution for connecting any small to medium enterprise or remote office to an IP/Internet network using a standard T1/E1 interface.
The Model 2701A/I terminates T1 & E1 services for all n x kbps to 2.048 Mbps rates for simple connection to a router. Flexible clocking modes, AMI/HDB3 & AMI/B8ZS coding, V.52/V.54 diagnostics and more make the 2701A/I on of the most versatile NTU's available.
The Model 2701A/I comes with an auto-sensing full-duplex 10/100Base-T Ethernet port, cross-over switch, and internal power supply. The Model 2701A/I is equipped with an integrated T1/E1 CSU/DSU for connection to full and fractional T1/E1 services.
AC or DC power options make installing the Model 2701 into your network infrastructure a snap.