Teletics ZipLine is a fast inexpensive way to get phone lines and ethernet @ 10 Mbps between two locations.   With the Teletics ZipLine, you can provide one or two phone lines and ethernet to another building, in under two hours, and at a fraction of the cost of trenching.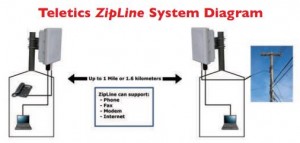 One line or two line units available. Ethernet (at 10BaseT speed) is also provided over the same radio link. Need a phone line quickly? No problem.
The opportunities to save money with the ZipLine are endless. The ZipLine can be used on construction sites, for security phone applications, between buildings and across parking lots, for remote metering applications and on recreational properties. The ZipLine is perfect where ever you need a phone or data line, but can not run wire.
No trenching
• Ideal for temporary or permanent installations
• 1 or 2 lines with a 10BaseT ethernet connection, any time, any where.
No radio experience required
• Outdoor radio is complete
unit
• No radio cables or tools needed.
Fast installation
• Can be installed in less than 2 hours
Utilizes unlicensed radio technology
• No permits or licenses required Secure
• 256 bit AES encryption
• System is unique and secure.
Everything you need in one box.
Call us for pricing