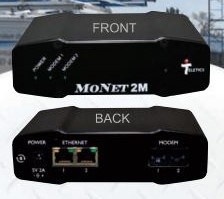 The Teletics MoNet standalone Modem over IP (MoIP) Network Interface devices allow you to access modems over the internet, or through cellular data networks, WiFi, or private Wide Area Networks.
Key Features
• Does not require installation of a phone line at the site
• Communicates with all modems using any IP network
• Operates at speeds up to 33.6 kbps
• No programming changes required
The Teletics MoNet
● Reduce (or eliminate) modem phone line costs at remote sites.
● Allows analog data modems to connect to any internet connection.
● Convert old CDMA cellular modem dial up line to new LTE cellular.
Can you relate to any of these Applications?
● An industrial control company requires dial up phone lines to their equipment installations at customer sites, they use telephone lines for occasional diagnostic work or to update software.
● A utility company has dial up meters at remote sites to measure power/water/gas, there is already internet at these sites. Why the need for phone lines as well?
● A remote site needs a dial up phone line and there is no service in the area, the cellular provider cannot support a dial up line for modems any more.
● Cellular phone provider announces service upgrade, and dial up phone lines at customer locations are no longer supported. They expect you to upgrade all of your field devices to IP versions.
If so, then Teletics MoNet is for you!
● MoNet can be used with the Customers internet or with much lower cost LTE cellular cutting communication costs dramatically!
● MoNet devices can entirely eliminate phone lines at any site that already has internet providing significant savings in recurring phone costs!
● MoNet can be used with satellite IP technologies to access remote site dial up devices anywhere in the world!
● MoNet provides identical dial up services for existing Meters/Devices when cellular phone providers systems change, eliminating expensive upgrade or replacement devices