We are pleased to announce that Teletics MoNet Modem over IP and Teletics ZipLine Wireless Phone and Ethernet Extender products are now available here at DCE Express.
Teletics products are used in some of the most environmentally demanding situations on earth including oil and gas drilling operations, fuel sites, electrical and gas utilities, mines and chemical plants.
Traditional telephone and consumer communications products fail in these environments.  Teletics provides simple and elegant phone communications systems that can withstand industrial environmental challenges, movement, and rough handling.
Teletics products are designed to operate efficiently in complex communications environments involving integration with satellite communications, traditional landline telephone, public safety systems, and cellular.
The Teletics MoNet standalone Modem over IP (MoIP) Network Interface devices allow you to access modems over the internet, or through cellular data networks, WiFi, or private Wide Area Networks.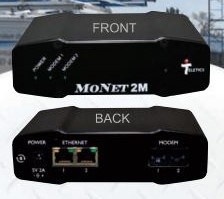 Teletics ZipLine is a fast inexpensive way to get phone lines and ethernet @ 10 Mbps between two locations. With the Teletics ZipLine, you can provide one or two phone lines and ethernet to another building, in under two hours, and at a fraction of the cost of trenching.