Patton 1008 Multipoint Short Haul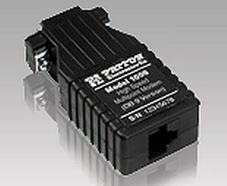 1008F MULTIPOINT LINE DRIVER, DB9F
1008F RJ11 MULTIPOINT LINE DRIVER, DB9F/RJ11
1008F RJ45 MULTIPOINT LINE DRIVER, DB9F/RJ45
1008M MULTIPOINT LINE DRIVER,DB9M
1008M RJ45 MULTIPOINT LINE DRIVER, DB9M/RJ45
The Patton 1008 is a multipoint short range modem in a DB-9 package! It supports data rates to 115.2 kbps and distances up to 9 miles (14.5 Km) on 19 AWG @ 1200 bps over one or two twisted pair.
Requiring no AC power or batteries for operation, the Model 1008 allows up to 50 terminal drops in a multipoint environment. The Model 1008 passes data, plus one control signal, in each direction. Five separate configuration parameters let you custom-tailor the Model 1008 to your particular application. And surge protection is standard!
Point-to-Point or Multipoint Operation over 2 or 4 Wires
Multidrop up to 50 Terminals
Async. Data Rates to 115.2 Kbps
Range to 9 Miles (14.5 Km) on 19 AWG at 1.2 kbps
Transmits and Receives Data plus One Control Signal Each Way
Selectable RTS/CTS Delay
Operates with or without "Echo"
Two Separate Impedance Settings
"Carrier ON" or "RTS Controlled"
FCC Approved-Part 15 Class A
Silicon Avalanche Diode Surge Protection Now Standard
No AC Power or Batteries Needed
Made in the USA • This Patton equipment is designed by Patton engineers and built in our Gaithersburg, Maryland facility. Patton's American-made manufacturing process delivers high-quality networking solutions with reliability you can trust.