Adtran NetVanta 1235P
Part Number: 1700595G10

The NetVanta 1235P is a Fast Ethernet switch that utilizes ADTRAN's ActivReach Ethernet Technology to break down existing cabling and distance constraints and unlocks the power of Ethernet to support all grades of wiring – CAT5, CAT3 or legacy copper. This technology also extends reach beyond limits of standard Ethernet – up to 1600 feet without the need for fiber, repeaters or additional switch infrastructure. Delivers 10/100 Mbps voice, data and even Power over Ethernet (PoE) over existing cabling.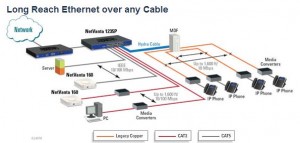 ActivReach Ethernet Technology uses the combination of the NetVanta 1235P and the NetVanta ActivReach Media Converter.
Many older office buildings, schools, hotels, hospitals and distribution facilities rely solely on CAT3 or voice-grade cabling infrastructure for their legacy phone systems. Traditionally, businesses have been forced to run new cable to access cutting edge Ethernet services, which quickly becomes cost-prohibitive for many companies—until now.
ADTRAN introduces ActivReach, an innovative technology that breaks down these barriers, and unlocks the power of Ethernet. ActivReach, currently available on the NetVanta 1235P and 1535P Ethernet switches allows businesses around the world to utilize their existing wiring infrastructure (CAT5/6, CAT3 or Legacy Copper) to deliver 10/100 Mbps Ethernet and PoE up to 1,600 feet (488 meters).
ActivReach:
Supports up to 100 Mbps Ethernet connectivity utilizing 4-pair, 2-pair, or even a single twisted-pair of CAT3, or legacy voice-grade copper
Extends Ethernet reach up to 1600 feet (488 meters) across all grades of cabling
Delivers PoE and up to 100 Mbps connectivity to devices, such as IP phones, Digital signs, Access Points or IP security cameras
You can always call for a quick quote.
If you like the price, you can order right over the phone.